In the Tudor period, gifts were exchanged for New Years instead of Christmas. We are lucky to have many records relating to the gift exchanges that took place at the Tudor court and between members of the royal family. One of the most touching pieces is a pair of letters sent between Edward, then prince of Wales, and his stepmother, Catherine Parr, about the New Years gift she sent him. The very close, loving relationship between Edward and Catherine Parr can be so strongly felt through these beautiful letters.
For New Years of 1547, Catherine gave her stepson a gift with miniature portraits of herself and King Henry. Unfortunately we do not know anything more about the gift – what form the miniatures took, who painted them, or if they number amongst the surviving portraits at least of Henry. On the 10th January, Edward wrote this very loving letter to his stepmother, thanking her for the gift. We don't have the reply that Catherine actually sent, however on the back of the sheet of parchment which acted as an envelope for Edward's letter, Catherine drafted a reply that has survived. We have no way of knowing how much Catherine changed this draft before sending it, but it is revealing of the care and pride she took in Edward's scholarship.
Catherine's gift is even more poignant when you realise the date; a few weeks later, on the 28th January, Edward's father, King Henry VIII, died, making this one of the last gifts Edward received before he became king himself. We have no way of knowing how Edward truly felt about his father, but you can imagine a 9 year old boy finding comfort in the image of his father and stepmother during such an incredibly difficult and tumultuous time.
The original letters were composed in Latin. The translations below are by Janel Mueller, though any keen Latinists can peruse the images of the original letters below.
~
To the most noble Queen and my dearest mother
That for a long time now I have not written to you, most illustrious Queen and dearest mother, was by reason not of negligence, but of study.
Truly I have not done this so that I should never write at all, but that I should write more accurately. Wherefore I hope you will be earnestly aware and joyful that I have not written. For you want me to progress in all goodness and piety, which is a mark of your remarkable and enduring love towards me. And you have declared this love to me by many favours, and chiefly by this New Year's gift that you recently sent to me, in which is contained the King's majesty's likeness and yours, depicted to the life. For it delights me very much to contemplate your portraits, whom, although absent, I very willingly desire to see present, and to whom I am bound most fast, both by nature and by duty. For this reason I give you greater thanks in return for this New Year's gift than if you had sent me precious garments and engraved gold, or any other exceptional thing. May God safely keep your highness, whom I hope I will see shortly. From Hartford the tenth of January
Your Highness's most obedient son
Edouardus Princeps [Edward the Prince]
~
Queen Katherine's undated draft reply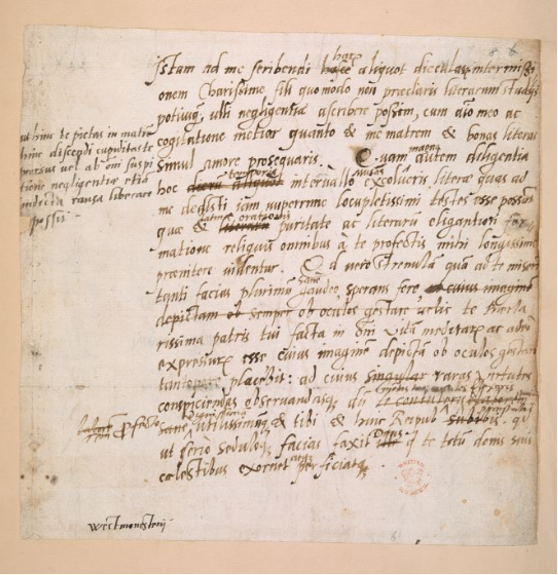 That intermission of yours in writing to me until a little while ago, dearest son, I could not ascribe to excellent studies of letters or to any negligence at all, when in my soul and thought I measure how you attend with love both to me as your mother and to good literature at the same time. So that, on this side, you reverence to your mother, on that side, your desire to go on learning being still the cited reason, it is possible to free you from all suspicion of negligence. With how great diligence soever in this f̶e̶w̶ ̶d̶a̶y̶s̶ interval of time you will cultivate the Muses, the letters that you have presented to me most recently can be witnesses most fully and richly that, in the purity of Latin speech and the very elegant formation of letters and all the rest of the things in which you have made a beginning, it may be seen that you very far outshine me.
Although, in truth, that you make so much of the little token I sent you, I really rejoice, hoping perhaps y̶o̶u̶ ̶w̶i̶l̶l̶ ̶k̶e̶e̶p̶ ̶t̶h̶i̶s̶ ̶d̶e̶p̶i̶c̶t̶e̶d̶ ̶i̶m̶a̶g̶e̶ ̶f̶o̶r̶ ̶a̶l̶w̶a̶y̶s̶ ̶b̶e̶f̶o̶r̶e̶ ̶y̶o̶u̶r̶ ̶e̶y̶e̶s̶ that it has designed and expressed to the life the deeds of your most distinguished father, he of whom it will be pleasing in a great degree to keep the depicted image before your eyes. To whose s̶i̶n̶g̶u̶l̶a̶r̶ rare virtues, attentively beheld and observed, as long as y̶o̶u̶ ̶g̶a̶z̶e̶ ̶u̶p̶o̶n̶ ̶t̶h̶e̶m̶ ̶a̶n̶d̶ ̶t̶h̶e̶ ̶w̶o̶r̶k̶ you direct the eyes of your mind a̶n̶d̶ ̶y̶o̶u̶r̶ ̶e̶f̶f̶o̶r̶t̶ ̶s̶o̶u̶n̶d̶l̶y̶, having accomplished a most worthy and most useful thing, you w̶i̶l̶l̶ ̶s̶u̶c̶c̶e̶e̶d̶ will distinguish both yourself and this commonwealth. Which, that you may seriously and sedulously do, may he God provide and perfect you with all of His heavenly gifts. From Westminster
(Header Image: Details from portrait of Edward VI by Master John, c.1547 and from portrait of Catherine Parr by Master John, c.1545)