This beautiful, if damaged, piece was a harness pendant with Philippa of Hainault's coat of arms, found in 1998 in Yorkshire. Made of a copper alloy, the black and red enamel is still largely visible, though the background enamel has largely worn away. Harness pendants were decorations hanging from the leather strapping of horses' harnesses, often emblazoned with the coat of arms of the rider, or the noble household they belonged to.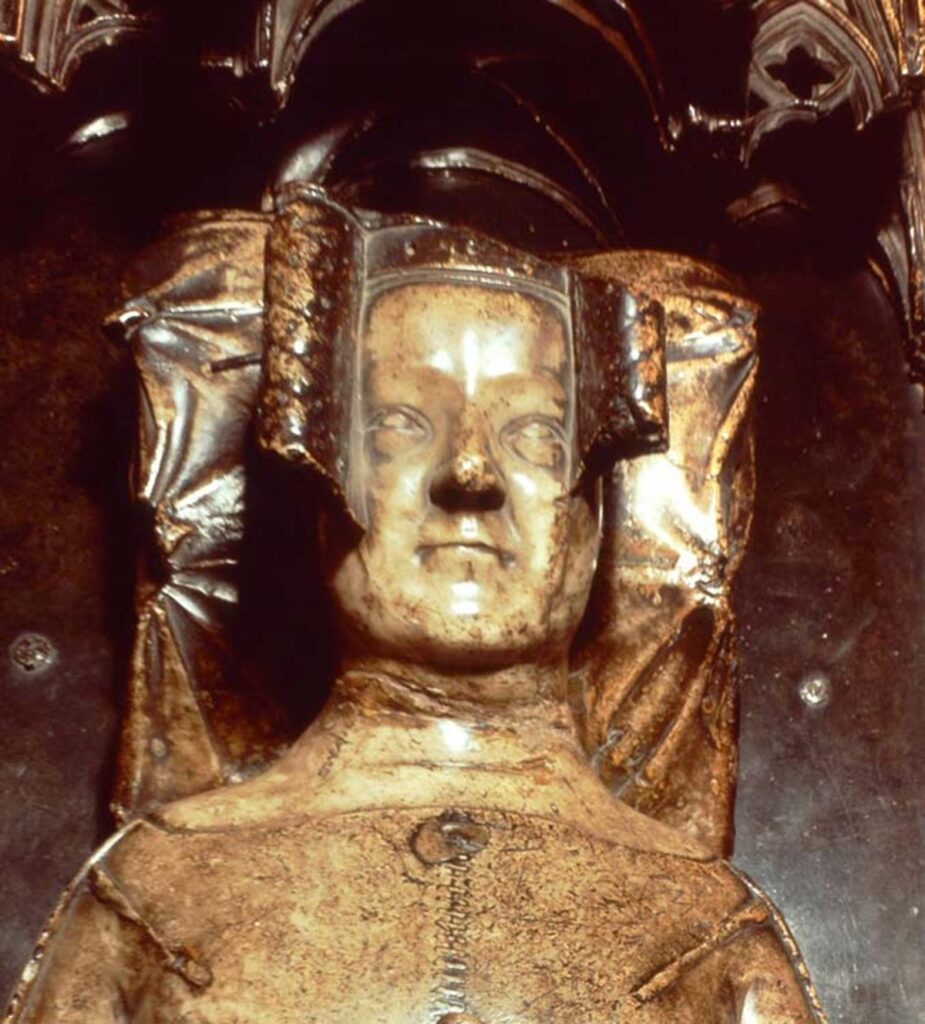 The arms of Philippa of Hainault, wife and queen of Edward III, can still be made out on this pendant, combining the arms of England – gules, three lions passant guardant in pale or – with those of Hainault – or, quarterly a lion rampant sable and a lion rampant gules. We can be fairly confident that this pendant was made and used fairly early in Philippa and Edward's reign, as from 1340 onwards Edward claimed the throne of France by right of his mother, and therefore quartered the royal arms of England with the fleur de lys of France. It would have hung from the harness of the horse of either Philippa herself, or one of her household.
Like all medieval kings, Edward led an itinerant court, travelling widely and frequently. Philippa travelled with Edward most of the time, which was not as common; this fact, along with the letters in which Edward addressed Philippa as 'sweet heart,' shows the close relationship the two shared over the course of their 40 year marriage.
Though later medieval kings rarely travelled north of the Watford Gap, Edward and Philippa frequently travelled to the northern reaches of their kingdom. Yorkshire was no stranger to their king and queen. Two significant events of their lives took place in York itself. The beautiful gothic cathedral of York Minster was the site of their marriage on the 24th January, 1328. Nearly 9 years later, Edward and Philippa were celebrating their Christmas court in Hatfield, Doncaster when Philippa gave birth to their second son, William, in December of 1336. Their joy was sadly short-lived, as William died soon after, though they did have the comfort that he was baptised, ensuring they would be reunited with him in Heaven. He was laid to rest in York Minster on the 10th February, 1337.
It is tempting to imagine this harness pendant was lost either during the couple's 1328 wedding celebrations, or at some point during the painful months after their son's death. Either of these events would fit a pre-1340 date. Perhaps it was lost during a grieving mother's journey to visit her son's grave in the years after his passing. We will never truly know. But it is a testament to the times of joy and grief that Edward and Philippa spent in Yorkshire.