As word filtered through England and Europe that the controversial Queen of England, Anne Boleyn, had been arrested, along with a number of men, there were many reactions. From glee to self-interested indifference to disbelieving satisfaction, everyone had something to say on the matter. Many rumours spread along with information and misinformation. One such rumour suggested that candles surrounding Katherine of Aragon's tomb lit themselves the day before the execution. Others hoped that this would mean Henry and England would return to the Roman Catholic Church. As today, many did not believe the charges against Anne, though most were still glad to have her out of the way.
Below, I have provided just a few of the many reactions to Anne's arrest and execution. In many ways, we see similar types of responses to major world events today, just on social media rather than handwritten letters.
~
8th May – Henry Fitzroy, Duke of Richmond to the Bishop of London
As the stewardship of Banbury is like shortly to be vacant in consequence of Mr. Norres' trouble (many men thinking that there is no way but one with him,) asks the Bishop for a grant thereof under the chapter seal, that he may exercise the office by his deputy Gyles Forster, master of his horse, the bearer.
~
18th May – Charles V to Chapuys
We have by your man, the bearer, received your two letters and learnt the occurrences with you. You did well to dispatch him to certify us of what has happened about the Concubine; and since the case is so manifest, as we suppose, by the Divine will, and the King takes it to heart as he ought, we think, as we wrote you in our last letters that the King will wish to marry again; and having since our said previous letters thought over the marriages therein mentioned between the said King and the Infanta of Portugal, daughter of the queen of France, our sister, and of don Loys of Portugal, our brother-in-law, we have decided that it will be better openly to declare to the said King, in the way that you shall see most fitting, as the affair of the Concubine proceeds, and you can learn the King's inclinations from Cromwell and others, that, knowing what has taken place, we have charged you to put before him the said marriages, the more to show him the cordial affection we have always retained towards him and the peace of his realm, and that if it please him to listen to them we have good hope, in accordance with the perfect friendship between the king of Portugal and us, of conducting the affair. You shall use your best dexterity to forward the said matches, which we desire particularly to be able to conduct for several good reasons, and we do not intend you to speak of the other match, of the duchess of Milan, for the said King, unless you see there is no way to the preceding, and that he is seeking another marriage…
~
19th May – Ambassador Chapuys to Granvelle
…Although the matter is not much to be relied on, many think that most of the new bishops "ont davoir leur Sainct Marten," because, having persuaded the Concubine that she had no need to confess, she grew more audacious in vice; and, moreover, they persuaded her that according to the said sect it was lawful to seek aid elsewhere, even from her own relations, when her husband was not capable of satisfying her. The Concubine, before her marriage with the King, said, to increase his love, that there was a prophecy that about this time a queen of England would be burnt, but, to please the King, she did not care. After her marriage she boasted that the previous events mentioned in the prophecy had already been accomplished, and yet she was not condemned. But they might well have said to her, as was said to Cæsar, "the Ides have come, but not gone."…
~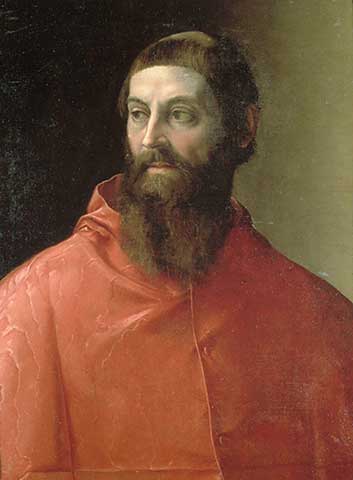 24th May – Bishop of Faenza to Monsignor Ambrogio
According to information from England, received by the King yesterday, on the 15th inst. the Queen was degraded, and the following day was to be executed,—either burnt or beheaded; but first her brother, four gentlemen, and an organist, with whom she had misconducted herself, were to be quartered in her presence. It is not true that her father and mother were imprisoned, but the former, being on the Council, was present at his daughter's sentence. All was done in the presence of the French ambassador only. It is said that the King has been in danger of being poisoned by that lady for a whole year, and that her daughter is supposititious, being the child of a countryman; but these particulars are not known for certain, according to what the King said today. The discovery was owing to words spoken by the organist from jealousy of others. They are expecting now the declaration of the true daughter to reinstate her and annul what was done in favor of the other. Has not omitted to show what may be done on this occasion for the honor of God, &c. The French king answered that he ardently desired to bring back Henry to the Church, and that he would not fail in endeavouring to do so. He knows that the Imperialists have offered the king of England the queen of Hungary as a wife, but it is thought he will not take her, as she is in bad health, and not fit to bear children. He has today sent a person to his Ambassador about these affairs. He thinks it would be easy to bring back the King if it were not for his avarice, which is increased by the profit he draws from Church goods. The English ambassadors here are in very great joy. Knowing that one of them was a good man, and a friend of his, caused the opportunity and advantage of the King's coming back to the Pope to be shown to him; and that he should be neutral, and give the Emperor and (French) king to understand that he would oppose whoever refused peace; that there was not a better opportunity of wiping out the stains on his character, and making himself the most glorious King in the world; that every one should do his duty, and they would find in the Pope that true piety and goodness which ought now to be known to all the world. The Ambassador, and Winchester also, who is the other, thanked him, saying, with many tears, that this was their only desire, and they would do their part, so that they hoped we should soon embrace each other..
~
25th May – Mary, Dowager Queen of Hungary to Ferdinand, King of the Romans
I hope the English will not do much against us now, as we are free from his lady, who was a good Frenchwoman. That the vengeance might be executed by the Emperor's subjects, he sent for the executioner of St. Omer, as there were none in England good enough.
Hears he has already espoused another lady, who is a good Imperialist (I know not if she will continue), and to whom he paid great attention before the death of the other. As none but the organist confessed, nor herself either, people think he invented this device to get rid of her. Any how, not much wrong can be done to her, even in being suspected as méchante, for that has long been her character. It is to be hoped, if hope be a right thing to entertain about such acts, that when he is tired of this one he will find some occasion of getting rid of her. I think wives will hardly be well contented if such customs become general. Although I have no desire to put myself in this danger, yet being of the feminine gender I will pray with the others that God may keep us from it.
~
26th May – Harvel to Starkey
I acknowledge your advice in your letter of the last of April to write to my honorable friends, but the length of time I have abstained from writing oppresses me with shame, which I know is groundless, sed natura sum pudenti ut scis. Besides, I have little pleasure and comfort of myself, considering the perpetual factions and discords of the worldly things, which makes me cold to come among men in public. My mind inclines much more to follow a private and quiet life and give up the worldly "fastidies" to those qui ambiunt honores, in the which number I was never greatly to be reckoned. I will not forget to provide your books. The news of the Queen's case made a great tragedy which was celebrated by all men's voices with admiration and great infamy to that woman to have betrayed that noble prince after such ma[nner], who had exalted her so high and put himself to peril, not without perturbation of all the world, for her cause. God showed himself a rightful judge to discover such high treason and iniquity. But all is for the best, and I reckon this to the King's great fortune that God would give him grace to see and touch with the hand what enemies and traitors he lived withal, of the which inconvenience his Grace is fair delivered, for with time there might have followed damage to his Grace inestimable…
~
1st June – Jean de Ponte to Cromwell
On the 1st June, dined with the vicar of Honniton and another priest, at the house of John Bould, the "Lion," at Dover. There were also present a man named Granger, and the wives of Mr. Nedersolle, Mr. Wrake, and John [Bould]. During dinner a servant of the master of the Maison Dieu, named Tra[sse], came in with news that the day before Madame Anne was beheaded, the tapers at the sepulchre of queen Katharine lighted of themselves, and, after matins, at Deo Gratias, went out; that the King sent 30 men to the abbey where queen Katharine was buried to inquire about it, and the light continued from day to day; that orders would soon be issued to pray for queen Katharine as before, and afterwards a heap of heretics and new inventions would be hanged and burnt..
~
2nd June – Dr. Ortiz to the Empress
The prayers of the late queen of England and the Holy Martyrs have prevailed. The King's mistress had six lovers, one being her own brother. Another, a musician, seeing that he was less favoured, discovered the fact to the King, first asking for pardon and his life. Now they are all taken it is found to be true. Her father, who was innocent, approved her condemnation. She was sentenced, first to be degraded from being Queen, then beheaded and burnt, seeing the others suffer the same death, with the exception of the one who revealed the crime. It was proved at the trial that she had behaved in this way before the conception of the child which the King thought to be his. It is intended to declare the child not to be the King's. Images have been restored and purgatory is preached again.
The cardinal of Burgos told him that a saint, who was martyred at the beginning of her tyrannical exaltation, prophesied that Anne would be burnt to death.
It is said that the process against her states that she poisoned the Queen. The King is enamoured of another lady…
~
2nd June – Sir John Russell to Lord Lisle
…I assure you she is as gentle a lady as ever I knew, and as fair a Queen as any in Christendom. The King hath come out of hell into heaven for the gentleness in this and the cursedness and the unhappiness in the other. You would do well to write to the King again that you rejoice he is so well matched with so gracious a woman as is reported. This will please the King…