ABOVE: Lady Margaret Beaufort by Meynnart Wewyck, c.1510
Painted shortly after she died, this portrait of Margaret actually shows her Book of Hours open in front of her.
A Book of Hours was a Christian devotional book with prayers for throughout the day and year. Amongst other features, these books usually included a calendar of Church feast days and celebrations. Due to their popularity throughout the Middle Ages, these works are one of the common types of surviving manuscript. The owners would often make notes in the margins of many things, particularly important dates and events for their family. Margaret Beaufort's Book of Hours, in particular, offers an insight into what importance she placed on her family and their lives.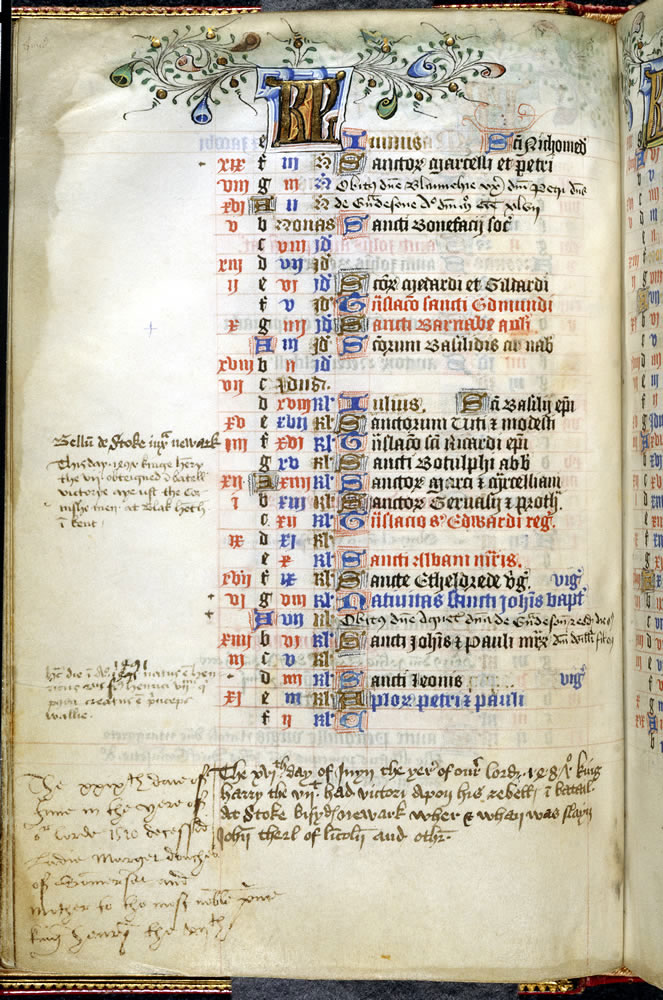 In fact, it is believed that this Book of Hours originally belonged to Margaret's mother, Margaret Beauchamp. A note on one of the pages reads 'michi famulo tuo J,' (I am your servant, J), which has led historians to theorise that it was commissioned by Beauchamp's husband, John Beaufort, perhaps as a wedding gift. Beauchamp recorded notes from her family's history, as well as some medicinal recipes, such as 'Take rosemarie' and 'medson for the meigrem.'
One of the first personal notes Margaret Beauchamp made was the birth of her daughter, Margaret Beaufort, on the 31st May, 1443, followed by the death of her husband the next year.
At some point it seems that Beauchamp passed the Book of Hours on to her daughter, perhaps on the occasion of her marriage to Edmund Tudor, or the birth of her son, the future Henry VII.
'Natale d[omi]ni Henrici filij Emundi comitis Richemondie ac d[omi]ne M[ar]rgarete vxoris sui filie Joh[ann]is nup[er] duc[?is] Somersete anno d[omi]ni millio cccc quinquagesimo sexto.'
(Born Henry son of the Earl of Richmond and Margaret his wife daughter of John, Duke of Somerset 1456.)
Many of the major events of Henry's life are noted in the Book of Hours, showing us that even then, mothers were proud of their children's achievements, just as we are today.
'The day landed king harry the vijth at milford have[n] the yere of o[u]r lord vijth cccc lxxxv 1485'
'The day king harri the vijth won[n] the feeld [field] wher was slayn ki[n]g Richard the third Ao Do[m] 1485'
The marriage of Prince Arthur and Katherine are also marked, followed, tragically by Arthur's death. Months later, is the entry for Margaret's daughter in law:
'This day wher[e] decessed Quene Elizabeth i[n] the tower of london'
These entries were not just to make a record of family events, they would also have been used as reminders for prayers; to remember to pray for the deceased, and to make thanksgiving prayers for past successes on the relevant anniversaries. One handwritten Latin prayer is followed by the English inscription, 'This prier foloweg is for the king,' probably Henry VII.
This beautiful manuscript shows the importance of family events, both joyful and sorrowful, to Margaret Beaufort, and we are very lucky that it has survived the centuries, to give us a glimpse into Margaret's mind and world.