Above: Portrait Jane Seymour by Hans Holbein the Younger, c.1536-37
Jane is portrayed here wearing the English gable hood she also insisted her ladies wear
Both fashion and royal tempers are fickle, something that Lady Lisle felt keenly in the latter half of 1537. When Jane Seymour became queen in 1536, she was determined to distinguish herself from her predecessor; perhaps in part to protect herself from the kind of gossip which was twisted and used against Anne Boleyn. Jane strictly controlled the conduct of her ladies-in-waiting, requiring them to be 'sober, sad, wise and discreet,' as opposed to Anne's court, which had been full of music, laughter, and courtly flirtations. Though the only known contemporary image of Anne – the 'Moost Happi Medal' shows here wearing a gable hood (you can read more about that in my post about the real face of Anne Boleyn here https://tinyurl.com/4w4vjcyx), Anne was known for popularising French fashions, particularly her iconic French hood – a trend picked up by most of the ladies of her court. In contrast, Jane insisted her ladies had to wear the more conservative, traditional English gable hood, also favoured by Jane's former mistress, Katherine of Aragon. We know of this through letters to Lady Lisle from John Husee, the Lisle family's business agent. Whilst Lady Lisle was in Calais with her husband, she had, after much networking, gained her daughter, Anne, a place as one of Jane's ladies-in-waiting. However, Lady Lisle was soon frustrated by the instructions John Husee passed to her regarding Anne's wardrobe.
On the 17th September, 1537, John Husee wrote informing Lady Lisle that Anne would have to follow the English style of Jane's court:
'Mistress Anne must also have the apparel written in the same book, as appointed by lady Rutland and lady Sussex. However, since that time James is come from the Court and says the Queen's pleasure is Mrs. Anne shall wear out her French apparel, but she must have a bonnet and frontlet of velvet. I saw her yesterday in the velvet bonnet in which lady Sussex attired her, which I thought became her nothing so well as the French hood, but the Queen's pleasure must be done.'
This must have been particularly frustrating, as it had only been 4 days earlier that Lady Lisle was writing to order 'half a dozen hats…such as the ladies wear in France.' But as vexing as the requirement to order a gable hood ('new bonnet') was, at least Anne's gowns would not be wasted. However, by the 2nd October, John Husee wrote again that Queen Jane had changed her mind: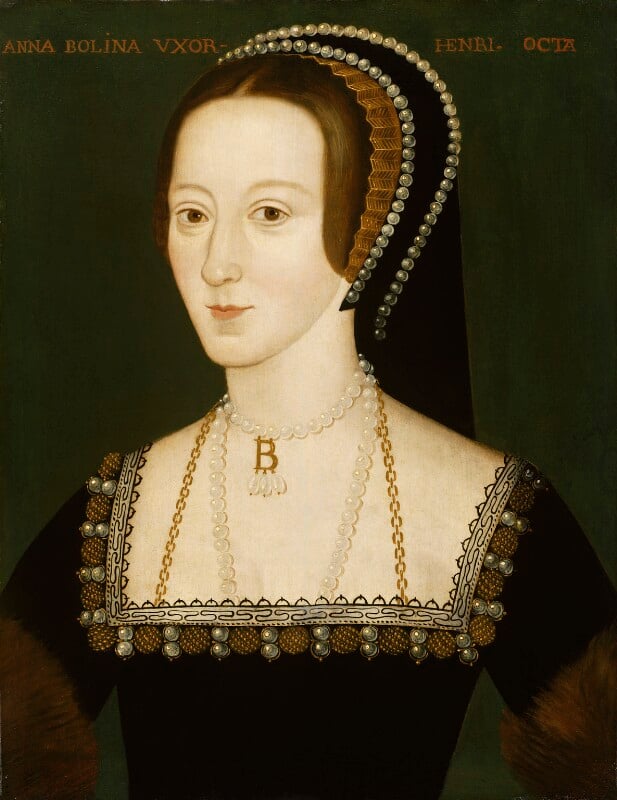 'The Queen's pleasure is that Mrs. Anne shall wear no more her French apparel, so she must have a bonnet or two with frontlets, an edge of pearl, a gown of black satin, and another of velvet. This must be done before the Queen's churching. She must also have cloth for smocks and sleeves, for their smocks are censured as being too coarse.'
The next day Lady Lisle put in an order with a London mercer for 'certain parcels of worsted, buckram, damask, velvet, chamlet, and satin…' to rectify her daughter's wardrobe.
Yet this was still not enough, and on the 16th October, four days after Prince Edward's birth, and the day after his christening, John was writing again about Anne's clothing:
'On Sunday last lady Sussex sent to me with all speed to make Mrs. Anne a new gown either of lion tawny velvet or of black velvet turned up with yellow satin; which I have done with much work. By Tonge's help the gown was made up and she wore it at the christening. Yet she must have against the Queen's churching a new satin gown, and against Christmas a new gown of lion tawny velvet.'
And again on the 21st October that: 'You must provide a tawny velvet gown for Mrs. Anne'
At this point there is a gap in John's correspondence to Lady Lisle. Queen Jane died on the 24th October, possibly due to some form of infection following the birth of Prince Edward. However, this itself brought its own clothing requirements, for the court entered a formal mourning period, as John wrote on the 19th December:
'Your ladyship marvels that my lady of Sussex wanted a new gown of Lion tawney satin for Mrs. Anne. Her reason then was that it was uncertain how long the King would require them to wear black, and she ought to have two changes of silk beside her velvet gown.'
These letters provide a small snapshot of what life with royalty was like. Queen Jane was no better or worse than any other royal mistress of the time; in many ways she was fulfilling her duty to protect the wellbeing and reputation of her ladies, particularly in the wake of the scandal attached to Anne Boleyn. Just as fashion can be used to project an image of oneself to the world nowadays, Jane was crafting an image of dignified modesty for herself and her ladies.