There is a misconception that Elizabeth I never mentioned her mother, Anne Boleyn, that she ignored her maternal heritage in order to emphasise, to her father, to others, and perhaps even to herself, that she was 'Great Harry's' daughter. Anne Boleyn was executed before Elizabeth was 3 years old, so in all likelihood Elizabeth had no memories or impressions of her mother. However, whilst we perhaps do not have the record of any conversation explicitly mentioning her mother, if for no other reason than the conversations were within intimates who kept her confidence, Elizabeth did clearly keep her mother's memory close. Here are a few of the ways in which Elizabeth connected with her mother.

~
THE FAMILY OF HENRY VIII PORTRAIT
This dynastic portrait commissioned by Henry VIII shows an ideal of his family; though Jane Seymour had been dead for many years by the time this painted, she is revived to sit next to Henry along with her son and Henry's heir. What is most revealing though, is Elizabeth, who is shown wearing a pendant with the letter 'A,' which is believed to have belonged to her mother, Anne Boleyn.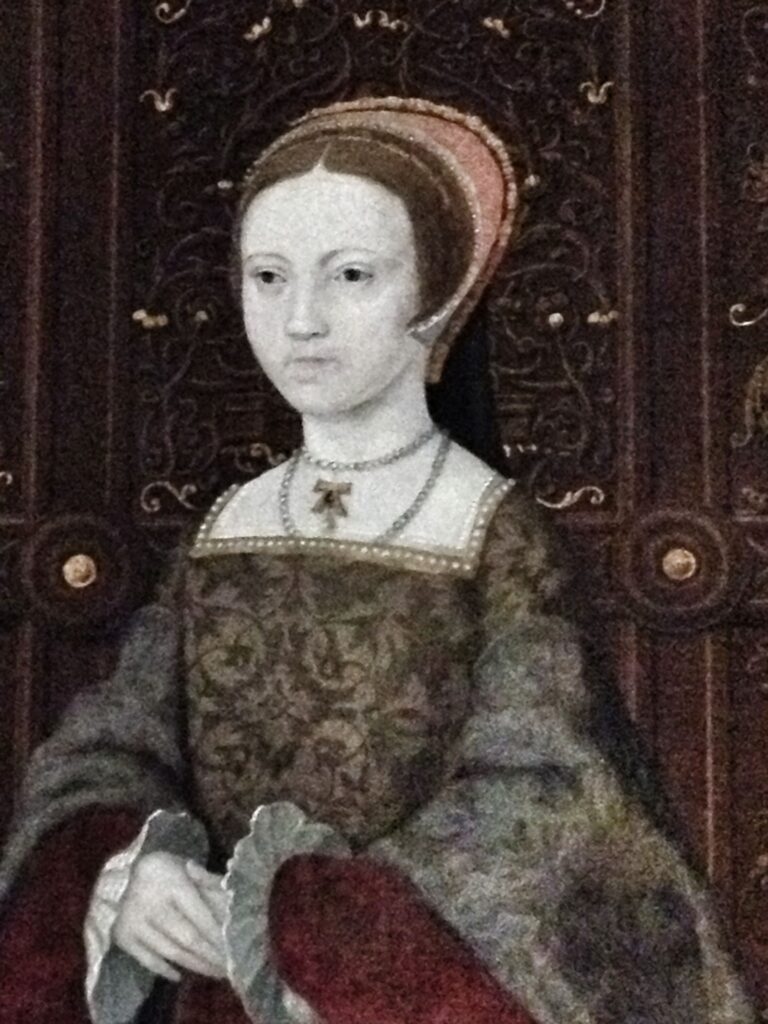 ~
THE CORONATION TABLEAU
As Elizabeth I's coronation procession wound its way through the streets of London, she stopped to observe a number of tableaus the City had put on in her honour. One of these had a dynastic theme, portraying Elizabeth's ancestry. Henry VII and Elizabeth of York, the new Queen's paternal grandparents were included, and of course her father, Henry VIII. But Anne Boleyn was also included, crowned and enthroned, next to Henry. It would have been easy to only include her father, especially if there was reason to think Elizabeth would not appreciate mention of her mother; in fact, it seems that there was reason to think that Elizabeth would appreciate seeing her mother's memory revived.
~
THE CHEQUERS RING
This incredible ring was found in a box beside Elizabeth's deathbed – perhaps the same box in which Robert Dudley's last letter was kept (see my post below). This locket ring contains two portraits – one of Elizabeth herself, and the other of a young woman that most historians agree is Anne Boleyn! Was this a gift, perhaps from one of her Boleyn relatives? Or something she commissioned herself in her mother's memory? Either way, it is a touching memento of a daughter for her mother.
~
BOLEYN RELATIVES
Elizabeth seemed to particularly favour her Boleyn relatives, the descendants of her maternal aunt Mary Boleyn. When her cousin Catherine Knollys was fleeing the Marian persecution of Protestants, Elizabeth referred to herself as 'cor rotto,' Latin for broken-hearted. This same cousin went on to be her Chief Lady of the Bedchamber. Catherine's brother, Henry, Baron Hunsdon, was also a close adviser of the Queen. Upon each of their deaths, Elizabeth paid for lavish funerals, far beyond what would be expected for members of her household.
~
These are just a few of the reasons to believe Elizabeth held her mother in esteem and wanted to hold her memory close. We can only wait and see if more evidence of their relationship may come to light!